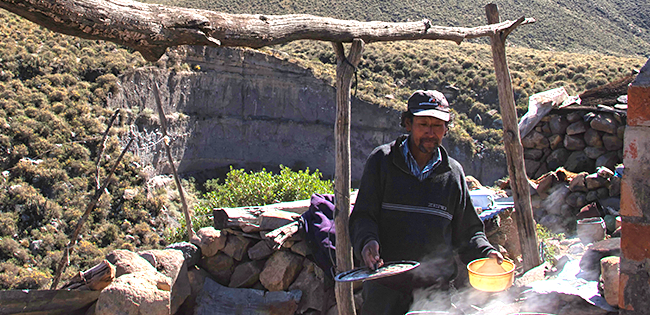 Solving big problems with a humble little stove. Qori Q'oncha, Peru
STOPPING DEFORESTATION AND INCREASING RESPIRATION, ONE STOVE AT A TIME
Imagine being bombarded by thick, noxious smoke and ash every time you tried to cook a meal at home. Unfortunately, this is all too common for rural families in the Qori Q'oncha region of Peru. But thanks to your support, people like Eutemio Miraval of Huanuco and 45,000 additional Peruvian families have a new story to tell.
"It has been one year since we have installed the stove. Our lives have changed a lot since then. The difference is in the smoke and the firewood, because before, with the "vicharra" (traditional cookstove), when it was windy, the whole kitchen would fill with smoke. But now we have eradicated all of that—instead, with the improved cookstove, all the smoke escapes through the chimney. Inside the house, it is all clean, which gives us tranquility because the children are not uncomfortable anymore. Before, we were constantly using a lot of firewood, but now, since last year, I still have my firewood stored because the improved stove consumes a lot less firewood. And regarding the diseases, the children are healthy, they have no more issues."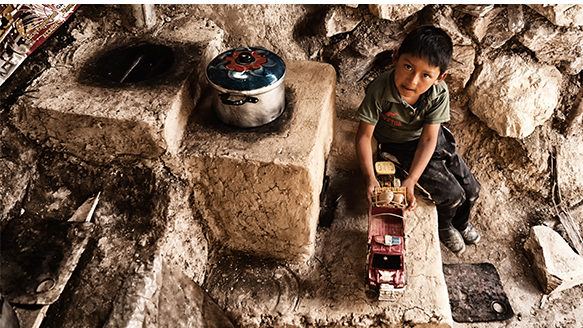 Cleaner cooking provides a better life for the whole family. Qori Q'oncha, Peru
Stories like Eutemio's are becoming more commonplace across Peru as the grand total of families this project has helped is now 150,000! Also, consider that the local project developer uses the carbon revenues to service and maintain stoves by replacing parts like the combustion chambers, extending the life of the stoves. This has allowed them to renew the project-crediting period and stay on track for another seven years.
Thank you for supporting this project,
Team Cool Effect