Interview with Sergio Radovcic from DYPER
August 14, 2019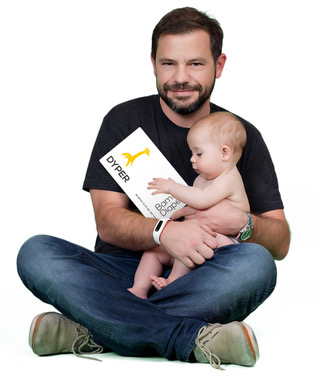 Q: What was the genesis of DYPER?
A: Well, I'm a tech guy, I'd never really thought about diapers before – most people don't until they actually need them. When you do, you go to the store and start thinking about the lifecycle of a single diaper and the impact it has on the environment. You want to be a good citizen and do the right thing, but here you are buying something that you'll use, roll up into a burrito and toss away multiple times every single day.
99% of all diapers are made from polyurethane or polypropylene – pure plastics. Data across many researchers shows that a third of the solid waste in US landfills is diaper originated. Because of this, we set out to make the ultimate diaper. Diapers still need to be usable and disposable, because that's what consumers want, but we wanted to reduce the impact on landfills. When we set out to build this diaper, we wanted to be better in every way. The best component ingredients, manufacturing process, minimal chemicals.
Q: What were some of the barriers to developing an eco-friendly diaper?
A: It was really just price. All the materials are there. We use bamboo and PLA films vs plastic films. We also partner with composting companies to deliver, pick up, and compost our diapers, diverting tens of tons of solid waste from landfills every week – in the SF Bay Area alone. Distribution and convenience we also key considerations. We offer delivery, including 4-hour emergency delivery service in 12 US cities.
Q: How do you determine your environmental impact?
A: We know that manufacturing diapers is a very ecologically expensive process, even with the best materials. We did some research and found a UK-based study that measures the full scale impact of a diaper on the environment from manufacturing to disposal. We took the most conservative number and voluntarily said, 'let's offset this'. Let's ensure that when we make, deliver, and dispose of these diapers we account for the worst-case CO2 impact. It turns out to be 18.3kgs per month. If the diapers are going to be composted by the consumer, the impact is even bigger. And our consumers absolutely love it. We get thousands of emails and letters each month from our customers sharing their appreciation.
Q: When did your passion for the environment start?
A: As an individual, I've been aware for the majority of my life. In my younger days, I was a scuba instructor so I spent a significant amount of my time underwater. Many places are being impacted by climate change, but I can tell you first hand, it's amazing to see the changes underwater – water clarity, coral reef bleaching, water temperature. I became very passionate about ocean conservation. In my day job, I was a hard core tech guy where it was really hard to have a major impact on climate change. This is why the concept of starting DYPER was so enticing.
Q: Do you think being a carbon-neutral company has helped your business grow?
A: I think it's too early to tell today, as we're really still in our infancy. I think it's a beachhead for us right now. We're going to start right, and not clean up later. Our customers recognize and appreciate any adjustments that we can make. They understand that we can't create diapers without some impact to the environment, but we can change the things we can control, and offset what we can through partners like you.
Q: How did you first learn about Cool Effect?
A: We looked at more tech savvy companies who were aligned with our view on the world and our values. We like that you are very transparent about where funds go and have global projects as well as ones in the US. Supporting our local communities is very important to us. So it was the combination of the breadth and depth of your project mix as well as general philosophy that drew us to you. We believe strongly in transparency and simplicity – when you buy a box of diapers, we offset it. We don't contribute as a percentage of our sales which is more convoluted. Customers understand this.
Q: You're offsetting the entire lifecycle of your diapers from manufacturing to disposal which is incredible. Are there other things you're doing inside or outside of your business to reduce your impact further?
A: Yes, absolutely. We are expanding our network of composting partners which we are very excited about. We will move from regional to national which is a huge milestone and will have a massive contribution.
Q: Is there anything else you'd like to share?
A: We're going to continue doing work that is not necessarily the most profitable or the most pleasant for our business, but is the right thing to do. Expanding our composting network as I mentioned is one initiative, which is very expensive. And we're not finished innovating our materials. We think that even the materials we're using today can be improved, and we're constantly exploring and sourcing around the world for that next material that can continue to achieve high performance but with an even better impact on the environment. On the manufacturing and distribution side, we're looking at building or expanding partnerships with companies who are aligned with our values.
As entrepreneurs, we want everything today – now – fast. But sustainability takes long-term commitment. It's not a just toggle we can switch on. At DYPER, we are committed to making smart gradual changes that create stepping stones to a more sustainable future for us and our customers.