Why we chose this project:

"The protocol this project applies is easily replicated while maintaining the credibility of the project's baseline and additionality. The emission reduction from improved forest management projects using the CAR Mexico protocol usually results in projects issuing less than 10,000 tonnes a year, but these are high quality and deliver real benefits to the community. More than 90% of the revenues from sale of carbon flow back directly to the community. We are impressed with the communities' involvement in the protection and management of the forest."
– Sid Yadav, Director of Project Research
Cool Effect Model:
Project Type: Avoided Nature Loss
Carbon Standard: Climate Action Reserve (CAR)
Vintage: 2018-2020
Additionality: Without funding from the sale of carbon, the forest would be used for income-generating activities by the local residents.
Permanence: Credits are issued based on the proportion of carbon that is maintained over a 100-year period.
Site Visit: November 2019
What it does:
Mexico's 65 million hectares of forest are disappearing at the rate of 1 million hectares a year. In Oaxaca alone, there is an opportunity to improve forest management and conservation on 1 million hectares. Indigenous communities own most of the land, highlighting the opportunity to incorporate carbon offset projects and community-based Improved Forest Management (IFM) activities that provide ecosystem services, receive community support, and are sustainable for the planet. The sale of carbon offsets provides additional funds to further these communal activities.
This project mitigates forest exploitation by restoring areas impacted by severe erosion or those affected by disease, fire, and pests; and protects and prevents damage by fires, grazing, and illegal use of forest resources. By implementing Improved Forest Management (IFM) practices, the forest growth rate exceeds both the baseline and natural growth model. These techniques focus on surveillance tours to detect pests and diseases, destroy trees as needed, weed/invasive plant control, and pruning and thinning techniques to guarantee the natural regeneration of healthy and native species.
This community-based initiative will allow the community to diversify its income and contribute to reduced carbon emissions. All members of the community within the activity area are involved in a joint effort to sustainably manage and increase the carbon stocks in the forests.
Benefits:
Protects several species of birds, orchids and other rare flowers, wild boars, white-tailed deer, and the puma—all threatened by deforestation.
Creates a model for urgently needed forest conservation throughout Mexico and South America.
Sustainably manages the forest with a minimal impact on the ecosystem but an extensive contribution to social and economic development.
Creates jobs for local residents. Without the project, the main revenue source is agriculture with some cattle grazing.
Provides education on forest management, monitoring and carbon revenue.
Protects land ownership and revenue ownership rights of the communities and enables people keeps people in rural communities.
Brings in additional resources to reinvest in the forest
Challenges:
Under financial pressure, the forests are likely to be logged to the maximum possible extent
Obtaining an agreement and a majority through a variety of community members can be difficult.
The forest is at risk of fires or pests.
Forest conservation is a low priority and not well understood in Mexico.
The government is not very proactive with forest conservation.
Providing long-term and sustainable income streams to forest dwellers and their families is challenging
Drawdown
Drawdown is the most comprehensive plan to reverse global warming; Seeing the Forest for the Trees relates to Solutions Number 15 and 17 – Afforestation and Tree Intercropping
Why we chose this project:

"The project development team takes a data-driven approach to project monitoring including remote sensing imagery, reported baseline values, and on-the-ground measurements. This increases Cool Effect's confidence and certainty in the emission reductions.
In addition to climate change mitigation, this project provides community and biodiversity benefits. 50% of the households within the project zone live below the national poverty line. The agreements between the project and communities ensure that benefits will be distributed and shared. Last, this project is verified and certified "Gold Level for 3 years for Climate, Community, and Biodiversity" by the Climate Community & Biodiversity (CCB) Standard."
– Sid Yadav, Director of Project Research
Cool Effect Model:
Project Type: Avoided Nature Loss
Carbon Standard: Verra, CCB Triple Gold
Vintage: 2015-2019
Additionality: Originally slated for conversion to an Acacia plantation, the project prevented land clearing techniques that would release carbon stored within the peatlands and forested areas.
Permanence: The Katingan project is on a 60-year concession license with the potential to extend up to 100 years.
Site Visit: Planned Q4 2021
What it does:
Palm oil production, acacia conversion, illegal logging and hunting threaten the Indonesian Peatlands. This project area, formally known as Katingan Peatland Restoration, was at risk of acacia conversion to produce paper. This conversion would release carbon into the atmosphere through clear-cutting, draining, and burning of the peat. Today, Katingan serves as a viable alternative to land conversion: it protects and restores 157,000 hectares of the peat swamp ecosystem, one of the largest remaining intact peat swamp forests in Indonesia. It reduces 7.5 million tonnes of CO2e each year, for a total of 447 million tonnes over the 60-year project period.
Peat swamps play an important role as ecosystems: stabilizing water flow, preventing peat forest fires, enriching soil nutrients, protecting and housing a diverse set of species, including some endangered species, and providing clean water. Peat swamps are also carbon sinks, storing more than 90% of the system's carbon in the deep peat soil. This ecosystem and project area are highly susceptible to fire, so fire prevention, awareness training, and seedling nursery development are the primary conservation and reforestation efforts.
In addition to the ecosystem and carbon benefits, Katingan is integrated into the 34 local villages and supports the traditional livelihoods of 400 residents through farming, fishing, and non-timber forest harvesting. Roughly 20-30% of operating costs support community development and 40-50% support direct project activities. The sale of carbon enables Katingan to support community-based businesses, provide microfinance loans to small businesses, fund public health clinics, and improve sanitation. The project strengthens the community's abilities to make decisions and identify sustainable initiatives. So that it becomes even less reliant on external intervention and increased local management. Without the sale of carbon, this land would no longer exist.
Benefits:
Reduces 7.5 million tonnes CO2e emissions each year.
Serves as a model of sustainable land use and management in the region, leading to potential wider adoption of its practices.
Employs 400 local community members to protect the forest from fire and to plant trees. Salaries are 50% above the minimum wage.
Provides microfinance loans (948 and counting) for small business development with training and finance opportunities, especially for women, and a Community Investment Fund.
Offers extensive vocational training that transitions the communities away from traditional unsustainable products towards more sustainable practices and products. This includes expanded business opportunities for women like rattan weaving and the production of biodegradable fiber bags.
Creates public health improvements including access to health care, with a focus on women and children, increased sanitation through upgraded latrine installments, and fire prevention to improve air quality.
Preserves the peatland forest which protects the local watershed, which in turn, preserves the forest through rewetting. A preserved peat forest protects the local biodiversity including mammals, birds, reptiles, and fish species.
Provides regular reporting and stories from the project area.
Challenges:
This ecosystem is at high wildfire risk during the dry season.
Due to project size, Katingan requires significant staff, time, and resources to manage and protect the project.
Working with so many diverse communities poses logistical and managerial challenges.
COVID-19 impacted project activities in 2020.
Drawdown
Drawdown is the most comprehensive plan to reverse global warming; Seeing the Forest for the Trees relates to Solutions Number 15 and 17 – Afforestation and Tree Intercropping
Why we chose this project: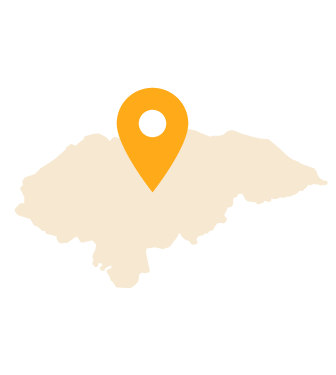 "The stove passes routine testing by standard Kitchen Performance Tests, and the wood savings are verified. Support and interest in the stove in rural communities in Honduras are overwhelming to the point where it requires no marketing, the growing participation is from word of mouth.
After families get a cookstove, they receive three follow-up visits to ensure the stove was installed and working correctly. This project uses Salesforce CRM to collect usage and maintenance data to identify and solve issues quickly. As a nonprofit, 100% of the proceeds from carbon sales are applied to stove production in Honduras without administrative or operating costs for the staff supporting the project from the United States."
—Sid Yadav, Director of Project Research
Cool Effect Model:
Project Type: Technology-based Avoidance/Reduction
Carbon Standard: Gold Standard
Vintage: 2016
Additionality: Carbon offset sales support project costs from stove production to stove installation; without the project, traditional cooking methods would prevail.
Permanence: Because the stove requires ½ the amount of wood compared to traditional stoves wood use is permanently reduced.
Site Visit: December 2019
What it does:
Local Hondurans call the stoves Dos Por Tres, slang for, "In an Instant." Instantly, these stoves save wood, save time, eliminate toxic smoke from the household, and help the planet by saving miles of forests and reducing carbon emissions by about 3 tonnes per stove per year. To date, the project has avoided the emissions of more than 2 million metric tonnes of CO2 and equivalent gases (mtCO2e).
Cooking in Central America relies on traditional stoves that burn significant amounts of local wood and emit smoke into the home. The stoves are on for eight hours a day and when cooks stand directly over stoves to cook the family tortillas, they breath the smoke that covers the kitchen roofs and walls in soot.
Installed directly in the home, the improved cookstoves are built from locally available cement or adobe bricks. The stove features a thermodynamic rocket elbow design that provides more direct heat to the food with less wood, so food is cooked faster. Families save money by purchasing less wood or save time by gathering less wood, rid the house of smoke, cook faster and, in a Dos por Tres, help save our planet.
Benefits:
Constructed 210,000 stoves to date, benefitting 874,000 people.
Monitors each location with GPS & follow-up visits and stores the information in a Salesforce database.
Saves the equivalent of ~5-9 trees per year per stove or 1.6 metric tonnes of firewood per year.
Reduces carbon monoxide and particulate matter in the home by 79%.
Provides 18,000 hours of stove maintenance training and fuel reduction tips each year.
Created 22 microenterprises and 170 jobs to date.
Families do not buy a stove; they co-invest in one. They provide bricks and mortar, the project provides construction, know-how, and specialized stove parts
Challenges:
Working in Honduras can be dangerous due to corruption, drugs, and human trafficking making some areas difficult to access.
Hurricanes and torrential rains continue to impact build schedules each year.
In Honduras, the decision to get a cookstove is usually made by the man of the home, who may not think it is important. This restricts stove distribution to families in need.
Drawdown
Drawdown is the most comprehensive plan to reverse global warming; Breath of Fresh Air relates to Solution 21 – Clean Cookstoves